Microplate Reader
Microplate readers detect properties of samples in microplate format. The most common properties measure by microplate readers are photometric properties (absorption, transmission, etc.) but microplate readers may detect a wide variety of properties. Microplate readers may handle only specific plate sizes, or multiple plate sizes, so be sure you get one that will meet your long-term needs.
SPECTROstar Nano
View Details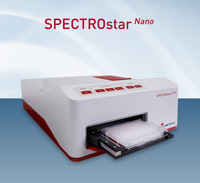 The SPECTROstar Nano represents a revolution in absorbance measurement instrumentation with the flexibility to perform assays quickly and easily in both microplates or via the built-in cuvette port. Using a spectrometer, this new absorbance microplate reader captures a full UV-Visible spectrum (220 to 1000 nm) in less than 1 sec/well and measures sample volumes down to 2 µL. The speed of the spectrometer, simple push button operation, and the capacity to design and save individual assay protocols give users an unmatched flexibility to optimize settings for all absorbance experiments.
The SPECTROstar Nano also includes the following outstanding features
Ultra-fast UV/Vis absorbance spectrometer
Captures a spectrum from 220 to 1000 nm in less than 1 s/well
Selectable spectral resolution of 1 – 10 nm
6- to 1536-well microplate format compatibility
Low volume 2 µL measurements for DNA, RNA, protein, etc.
Standard cuvette port for individual samples
Incubation up to 45°C for microplate and cuvette
Gas vent for atmospheric sensitive samples
Well scanning, kinetic and endpoint measurements
Multimode plate shaking capabilities
Assay specific quick run protocols
Powerful Data Analysis Software – MARS
FDA 21 CFR part 11 compliant
Robot compatibility
Much more…
The SPECTROstar Nano is delivered with a new version of BMG LABTECH's established Reader Control software and comprehensive Data Analysis Software, MARS. With its simple to use 'Quick Run' feature it reads ELISAs, RNA, DNA, Protein (Bradford, BCA, Lowry), Cell growth, and Beta-galactosidase assays at the touch of a button due to predefined protocols. This highly intuitive software also provides limitless possibilities for test set up where it is needed. In MARS, a wizard guides the user through the entire data analysing process. Additionally, a template manager can be used for building complex data processing protocols. Improved robotic integration capabilities, digital signature and FDA 21 CFR part 11 compliance of MARS complete this powerful software package.
SPECTROstar Nano applications include:
260/280 nm DNA quantitation
Protein quantitation (e.g. Bradford Lowry, BCA)
Reporter gene assays (e.g. ß-Gal, SEAP)
Cell proliferation and apoptosis
ELISA, enzyme immunoassays (e.g. alkaline phosphatase, horseradish peroxidase)
Enzyme activity assays: Monitoring absorbance changes in cellular co-factors NADH and NADPH allowing the determination of enzymatic activity
Microbial growth
Protein aggregation
SPECTROstar Nano Video
View the SPECTROstar Nano brochure