Magnefect Nano II
by nanoTherics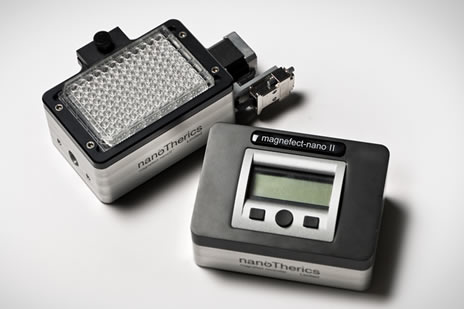 Full-feature, fully flexible, easy-to-handle, fast and efficient cell transfection devices.
Benefits of magnefect nano II over other transfection methods
Full flexibility for use with broadest range of cell types including difficult to transfect neuronal cells, stem cells and primary cells.
Fully interchangeable 6-well, 24-well AND 96-well formats.
Easy to program with user-defined protocols (oscillation frequency, displacement, cycles, time).
Quick, easy optimisation of transfection conditions for maximum flexibility and best possible transfection results.
The magnefect nano II system is supplied in two parts:
The magnefect-nano-II magnet array sample holder comes with fully interchangeable magnet arrays (6-well, 24-well AND 96-well) for standard multi-well plates. The sample holder may be placed in a cell incubator during transfection to maintain the normal cell culture environment.
The magnefect-nano-II controller unit supplies power to oscillate the magnet array and allows you to define user protocols (e.g. oscillating frequency, oscillating time, oscillating displacement). The magnefect-nano-II controller unit can also be used to provide power to a magnefect-nano-II-DUO sample holder.
magnefect nano II accessories
The magnefect-nano-II comes provided with a 6-well, a 24-well AND a 96-well magnet array which are fully interchangeable allowing user flexibility.
Additional magnet arrays and magnet array sample holders can be purchased as required.
Preliminary Data - siRNA Transfection
Left: EG5 knockdown
(Data courtesy of Janssen Pharmaceutica, Belgium)
View the nanoTherics Magnefect brochure